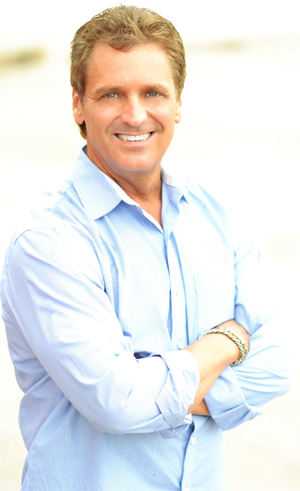 Rick attended the University of Nebraska where he studied Physical Therapy and Pre Med; He was a walk-on for the University of Nebraska Football team as a defensive back. While attending the university he gave his life to the Lord Jesus Christ.  He then attended the University of Hawaii and studied Oceanography.  While in Hawaii he was PR director for Barbazon School of Hawaii and the South Pacific.  He also appeared in Hawaii 5-0 as a stand in, and minor character roles.  He later moved to Los Angeles where he pursued a career in the film industry where he appeared in 35 national and international commercials, such as Sunkist Orange Drink, Mr. Pibb, Ford Trucks etc., and several pilot films, during this time he received the Baptism in the Holy Spirit while attending Crenshaw Christian Center, pastored by Dr. Fredrick K. C. and Betty Price.
He then worked for TBN broadcasting as head of the call in prayer groups, floor director, TV personality, green room host, body guard and many other duties. He gave up his film career to follow the call of God on his life and attended Rhema Bible College where he graduated in 1985. Rick was hired by Kenneth Hagin Ministries and served in many capacities while on campus, worked in shipping and receiving, later was the floor supervisor there, church set up crew captain, choir, bus driver, and taught the church prayer groups, he traveled extensively with Bro. Kenneth E. Hagin on his All Faiths Crusades as an assistant crusade director, semi-truck driver, set-up, and many behind the scenes duties.
Rick then accepted a position as an associate pastor in Kalamazoo, MI in 1992 where he was in charge of all the helps ministries etc. In 1994 he founded Rick Fern Ministries and traveled extensively in 45 states, and internationally speaking in local churches, camp meetings, crusades, conferences, and bible schools in 7 different nations. He founded the M.A.P (Missionary Assistance Program) where he would connect missionaries with pastors across the country. In 1999 he moved to Australia to help pioneer a Bible School in Sydney, Australia. In 2003 he pioneered a church in Kentucky that still is in operation today.
In 2005 he accepted a position as an associate pastor at Rhema Bible Church where he served under senior pastor Kenneth W. Hagin, and instructor at Rhema Bible College, where he taught such subjects as Christ the Healer, Ministries That Grow People, personal evangelism, Specialized Issues in pastoral care, history of evangelism, and church pioneering. He oversaw several of the church outreaches at one time or another, small groups (Link Teams) which he started, Prison Ministry, nursing home ministry, greeters, baptisms, church membership, Street Evangelism, Discovery Groups (specialized groups for special needs in peoples lives) Rick also ministered at Rhema Bible Church in rotation with the other associate pastors, Winter Bible Seminar, continuing education seminar (CES) Ministers leadership and helps conference. Rick was also one of the instructors for a time in Healing School. While on staff he hosted the local TBN Praise the Lord program, where he interviewed various guests. In 2015 Rick moved overseas to France and Spain where he established XploreNation Bible Universities training leaders to impact France, Spain, western Europe and the Arab nations through French and Arab speaking schools.  Part of his outreaches are going into the refugee camps of Northern France providing food, clothing and the gospel. In 2019 he established XploreNations Bible University in ChristChurch New Zealand to present. In 2022 we graduated our charter class of 152 Students.